The best known contact management solution used by millions and praised by experts around the world. Organizes all of your customer information in one place to give you instant access to every detail of every relationship.
Get more done with streamlined configuration and access options, including automated silent install for larger deployments, the ability to configure remote databases for Act! Premium for Web, and enhancements to Global Preferences – all designed to help your efficiency.
Discover the new, modern look of Act!, and easily access resources, tools, and a variety of apps that help you get more out of your solution.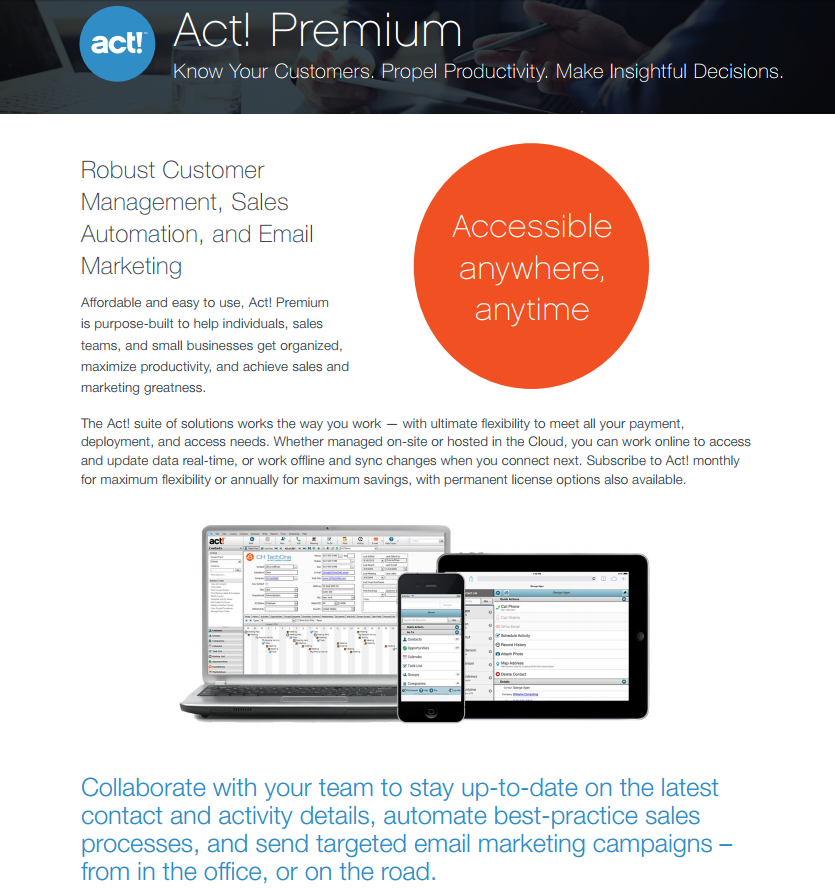 Contact us for new licenses, add-on licenses or upgrade licenses: 323-969-1996 or rob@yourbusinesslink.com
We support Act! versions:
Act! Premium 18
Act! Pro 18
Act! Premium 17/2015
Act! Pro 17/2015
Act! Premium 16/2014
Act! Pro 16/2014
Sage Act! Premium 15/2013
Sage Act! Pro 15/2013
Sage Act! Premium 14/2012
Sage Act! Pro 14/2012
Sage Act! Premium 13/2011
Sage Act! Pro 13/2011
Act! Premium 12/2010

Act! Corporate Edition 12/2010
Act! by Sage Premium 11/2009
Act! by Sage Premium 10/2008
Act! by Sage Premium for Workgroups 9/2007
Act! by Sage Premium for Workgroups 8/2006
Act! by Sage Premium for Workgroups 7/2005
Act! 2000
Act! 6
Act! 5
Act! 4
Act! 3
Act! 2